Construction Accident Injury Lawyer/Attorney
Primarily Serving Antioch, Pittsburg, Brentwood, Oakley, Concord and Bay Area CA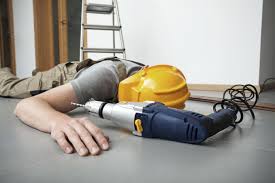 Construction workers face a greater risk of work-related injury than any other industry in the United States. Depending on the circumstances of your accident, you may have grounds for a personal injury lawsuit in addition to your workers' compensation claim. Personal injury lawsuits should be handled by an experienced New York construction accident attorney who knows the law and will fight to protect your interests.

At the law office of Mark A. McLaughlin, we are dedicated in helping injury victims. Regardless of how your injury occurred, you should have your case reviewed by us to see if an additional lawsuit would be appropriate for your situation. We will give you an honest assessment of your case and explain your legal options.

Protecting the Rights of Injured Construction Workers
We have experience with all types of construction site accident cases. We understand the types of injuries you can suffer, and we understand the type of care that is typically required for you to recover. When you hire our firm, you can count on us to seek 100 percent of the compensation you are entitled to under the law.
We represent clients throughout the Northern California (Antioch, Pittsburg, Brentwood, Concord, Oakland, San Francisco, and ….) area in a variety of construction site injuries, including:
Scaffolding injuries
Ladder injuries
Trip-and-fall injuries
Falling debris
Elevator injuries
Improperly braced or protected holes
Electrocutions
Insufficient concrete shores and forms
Failure to provide vertical passage
Wrongful death
Call Mark A. McLaughlin today- Free Initial Consultation
Contact our office today to discuss your personal injury case. Personal Injury Attorney/Lawyer Mark A. McLaughlin handles all types of cases including but not limited to Dog Bites, Slip and Fall Accidents, Premises Accidents, Trip-and-Fall Accidents, Car Accidents, Truck Accidents, Motorcycle Accidents, Construction Accidents, Bicycle Accidents, Wrongful Death. We're happy to take your call! We look forward to hearing from you! We take every personal injury case on a contingency basis which means that you don't pay any attorney's fees unless we recover compensation for you.
Law Offices of Mark A. McLaughlin
5109 Lone Tree Way, Suite B
Antioch, CA 94531, USA
TEL:
925.754.2622
FAX:
9257541104
E-MAIL:
nmclaug226@sbcglobal.net
PRIMARY PRACTICE AREA
For over 30 years our law office is successfully defending Personal Injury cases in Northern California. Our firm's representation includes a full range of Personal Injury related to matters such as Dog Bite Accidents, Premises Accidents, Car, Motorcycle & Truck Accidents, Construction Accidents Bicycle Accidents & Wrongful Death & our clients mainly come from Pittsburg, Antioch, Brentwood, Oakley. When you choose us, We will get started right away. Immediately contact Now by (925) 754-2622
RELATED SEARCHES
Construction Accidents Attorney of Antioch | Brentwood Construction Accidents Lawer of California | Brentwood Construction Accidents Lawyer | Construction Accidents Laws and Lawyer Pittsburg & California