Premises, Slip-and-Fall, Trip-and-Fall Accident Injury Lawyer/Attorney
Primarily Serving Antioch, Pittsburg, Brentwood, Oakley, Concord and Bay Area CA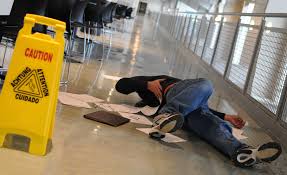 Slip-and-fall or trip-and-fall accidents can lead to extremely serious injuries for victims. Broken bones, back and spinal cord injuries, serious injuries to the knees, hands or face and many others can all result from a seemingly routine fall. If you have suffered a serious injury that was caused to an unsafe condition on someone else's property, you may have a claim for damages from the property owner.

Premises liability accidents can be very difficult to prove, and property owners will try any number of things in order to avoid responsibility for the harm that has come to you. Be sure that you have a strong legal team behind you from the start. At law office of Mark A. McLaughlin, we represent clients throughout the Northern California (Antioch, Pittsburg, Brentwood, Concord, Oakland, and San Francisco and ….) area in all types of premises accident cases.

The Right Choice for Your Northern California (Antioch, Pittsburg, Brentwood, Concord, Oakland, and San Francisco and... ) Premises Accident Claim
The law office of Mark A. McLaughlin has the skill, the knowledge and the determination to effectively handle your injury claim. We have filed claims against state, county and municipal government entities as well as large companies who carry the responsibility for repairing unsafe sidewalks, parking lots, office buildings and apartment buildings.
We are prepared to help you with any type of premises accident claim, including:
Injuries caused by uneven pavement and protruding objects
Improperly designed pedestrian ramps
Injuries resulting from icy or snowy conditions
Lead poisoning
Injuries resulting from faulty appliances
Insufficient security
Injuries caused by dangerous stairways
Ceiling collapse injuries
Call Mark A. McLaughlin today- Free Initial Consultation
Contact our office today to discuss your personal injury case. Personal Injury Attorney / Lawyer Mark A. McLaughlin handles all types of cases including but not limited to Dog Bites, Slip and Fall Accidents, Premises Accidents, Trip-and-Fall Accidents, Car Accidents, Truck Accidents, Motorcycle Accidents, Construction Accidents, Bicycle Accidents, Wrongful Death. We're happy to take your call! We look forward to hearing from you! We take every personal injury case on a contingency basis which means that you don't pay any attorney's fees unless we recover compensation for you.
Law Offices of Mark A. McLaughlin
5109 Lone Tree Way, Suite B
Antioch, CA 94531, USA
TEL:
925.754.2622
FAX:
9257541104
E-MAIL:
nmclaug226@sbcglobal.net
PRIMARY PRACTICE AREA
For over 30 years our law office is successfully defending Personal Injury cases in Northern California. Our firm's representation includes a full range of Personal Injury related to matters such as Dog Bite Accidents, Premises Accidents, Car, Motorcycle & Truck Accidents, Construction Accidents Bicycle Accidents & Wrongful Death & our clients mainly come from Pittsburg, Antioch, Brentwood, Oakley. When you choose us, We will get started right away. Immediately contact Now by (925) 754-2622
RELATED SEARCHES
Personal Injury lawyer Pittsburg CA | Personal Injury lawyer Brentwood CA | Personal Injury lawyer Concord CA | Personal Injury lawyer Oakland CA | Personal Injury lawyer San Francisco CA | Personal Dog Bite / Accident Injury lawyer Antioch | Antioch Slip and Fall / Trip-and-Fall Accidents lawyer | Personal Dog Bite / Accident Injury lawyer Pittsburg | Pittsburg Slip and Fall / Trip-and-Fall Accidents lawyer | Personal Dog Bite / Accident Injury lawyer Brentwood | Brentwood Slip and Fall / Trip-and-Fall Accidents lawyer | Personal Dog Bite/Accident Injury lawyer Concord | Concord Slip and Fall / Trip-and-Fall Accidents lawyer